Top Ten Cheapest Homeowners Insurance Rates in Houston
In this case study, we collected homeowner insurance rates from all zip codes in Houston and created an average rate. The data is Current for November 2016 and is for a person seeking $350,000 of coverage,  claim free for 5 years, average credit rating, type of construction is brick veneer, age of residence 10 to 34 years old.
ASI Lloyds
ASI homeowners policies provide coverage for most risks, such as theft, lightning, fire, and so forth, as well as for contents and loss of use. Replacement-value coverage is standard as is coverage for medical payments and personal liability. Additional options are available for items such as art and jewelry, and personal injury.
Allstate Vehicle and Property Insurance Company
Allstate offers affordable coverage for both traditional houses and mobile homes, including flood insurance, personal umbrella policies, and more. The standard homeowners policy covers most risks, such as fire, theft, vandalism, lightning strikes, replacement cost coverage, and so forth. Flood insurance is available as are several innovative riders.
Allstate's multi-policy discount offers a discount when combined with other add-ons, such as the claim-free discount, claim rate guard, easy pay plan, 55 and retired discount, and many more.
National Specialty Insurance Company
National Specialty Insurance Company is one of three insurance companies that operate through State National in Bedford, Texas. The company doesn't have a website although it is referenced on other websites.
They primarily serve the Dallas-Fort Worth area and have only a telephone number listed for customer service. They are listed as providers of homeowners insurance, as well as several other types, but additional information is available only by calling the listed phone number of 1-800-877-4567.
Texas Farmers Insurance Company
Farmer's Insurance in Texas offers flexible homeowners insurance policies to meet almost any budget. Standard coverages include personal property, replacement cost without depreciation, medical payments for guests who are injured, and additional expenses. Additional living expenses can extend as long as two years if the house becomes uninhabitable.
One policy can cover all structures on the property and includes acts of nature such as wind and fire. Vandalism is also included but there are exclusions. Policyholders can have coverage for structures worldwide, it's not limited to Texas or the U.S. Optional coverages can include identity shield, and scheduled and unscheduled coverage for valuables such as art and jewelry.
American Bankers Insurance Company of Florida
American Bankers Insurance Company of Florida operates in Florida under the name of Assurant, has been in business since 1947, and provides mobile home insurance. Policies available include damage from earthquake, flood, hurricane, and tornado, and include theft, vandalism, lightning, hail, and so forth.
Replacement cost coverage without depreciation is available in most states and includes the dwelling as well as the contents. Adjacent structure coverage is available as is personal liability protection.
American Mercury Lloyds Insurance Company
American Mercury Insurance offers a comprehensive homeowners insurance policy that is customizable for almost anyone. Dwelling protection covers damages caused by fire and smoke, storm and/or lightning, wind, and other acts of nature. Actual replacement cost coverage is available for up to 150 percent of the policy limits. Personal property is covered as are additional living expenses in the event the home is uninhabitable.
Personal liability and guest medical payments are included in the policy as is identity theft. Additional coverage is available for valuables such as art and jewelry.
United Property & Casualty Insurance Company
United Property & Casualty Insurance has a comprehensive package for homeowners, whether they live in a house or a condominium. Standard coverages include the primary structure, loss of use, personal property, and personal liability.
Optional coverages include identity theft protection and restoration, art and jewelry coverage, equipment breakdown, and water damage. Policy limits, coverages, and exclusions vary by geographic area and some coverages may not be available in some markets.
National Surety Corporation
National Surety Corporation is a subsidiary of Firemen's Fund and was founded in 1954; they operate from Novato, CA. They provide surety bonds and fidelity bonds and are a privately held company.
United Services Automobile Association
USAA offers homeowners insurance to both military and civilians. Structures are covered at replacement value without depreciation and most weather-related events are covered. Vandalism, theft, and fire are covered, and identity theft coverage is available. For active duty service members, replacement cost of uniforms is also included. Claims may be filed on their mobile app and a multi-policy discount is available.
AIG Property Casualty Company
AIG's comprehensive homeowners insurance provides 200 percent of replacement value on a home that is rebuilt in the same location. Landscaping coverage is available and sewer and drain damage is covered. Extra living expenses, identity theft, and scheduled expenses can be covered.
Coverage for updated technology to prevent a recurrence is available as is condominium upgrade coverage.
USAA General Indemnity Company
USAA General Indemnity Company provides a variety of insurance offerings to USAA members, including homeowners insurance, renters insurance, valuable personal property insurance, and others. homeowners insurance offers coverage against many types of damage caused by nature; flood insurance is available as a separate policy.
Homeowners coverage includes damage from fire, vandalism, storms, theft and vandalism, and so forth. An identity theft add-on is available as is protection for valuables.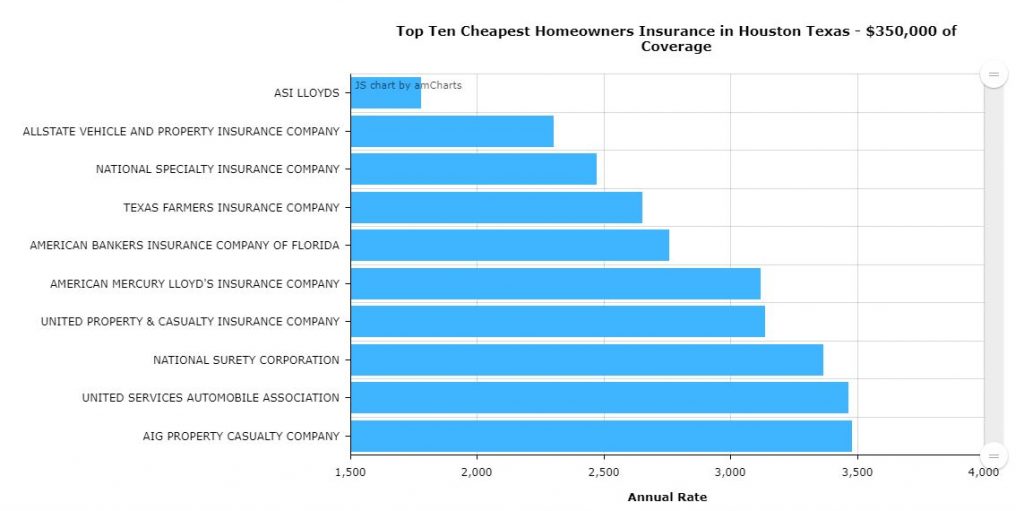 | Company | Annual Amount | A.M. Best Rating |
| --- | --- | --- |
| ASI LLOYDS | $1777 | A |
| ALLSTATE VEHICLE AND PROPERTY INSURANCE COMPANY | $2300 | A+ |
| NATIONAL SPECIALTY INSURANCE COMPANY | $2468 | A |
| TEXAS FARMERS INSURANCE COMPANY | $2649 | A |
| AMERICAN BANKERS INSURANCE COMPANY OF FLORIDA | $2757 | A |
| AMERICAN MERCURY LLOYD'S INSURANCE COMPANY | $3115 | A- |
| UNITED PROPERTY & CASUALTY INSURANCE COMPANY | $3134 | |
| NATIONAL SURETY CORPORATION | $3365 | A+ |
| UNITED SERVICES AUTOMOBILE ASSOCIATION | $3464 | A++ |
| AIG PROPERTY CASUALTY COMPANY | $3478 | A |
| USAA GENERAL INDEMNITY COMPANY | $3507 | A++ |
| GARRISON PROPERTY AND CASUALTY INSURANCE COMPANY | $3507 | |
| USAA CASUALTY INSURANCE COMPANY | $3507 | A++ |
| AMICA MUTUAL INSURANCE COMPANY | $3516 | A++ |
| TEXAS FAIR PLAN ASSOCIATION | $3621 | |
| CONSOLIDATED LLOYDS | $3835 | |
| NATIONWIDE GENERAL INSURANCE COMPANY | $3842 | A+ |
| TRAVELERS HOME AND MARINE INSURANCE COMPANY, THE | $3883 | A++ |
| METROPOLITAN LLOYDS INSURANCE COMPANY OF TEXAS | $4116 | A |
| AUTO CLUB INDEMNITY COMPANY | $4538 | A+ |
| CHUBB LLOYDS INSURANCE COMPANY OF TEXAS | $4679 | A++ |
| AMERICAN SECURITY INSURANCE COMPANY | $4691 | A |
| UNITRIN SAFEGUARD INSURANCE COMPANY | $4797 | A- |
| TEXAS FARM BUREAU MUTUAL INSURANCE COMPANY | $5832 | A- |
| LIBERTY INSURANCE CORPORATION | $6079 | A |
| STATE FARM LLOYDS | $6345 | B++ |
| ENCOMPASS INDEMNITY COMPANY | $6503 | A+ |
| SAFECO INSURANCE COMPANY OF INDIANA | $6914 | A |