If you haven't yet begun to shop for homeowners insurance in Texas, there is a good chance you'll go through sticker shock. Yes, Texas is one of the states with the highest rates for homeowners insurance. However, using these tips and a little ingenuity, anyone can certainly learn the secrets to cheap homeowners insurance in Texas.
Who Has the Cheapest Homeowners Insurance in Texas?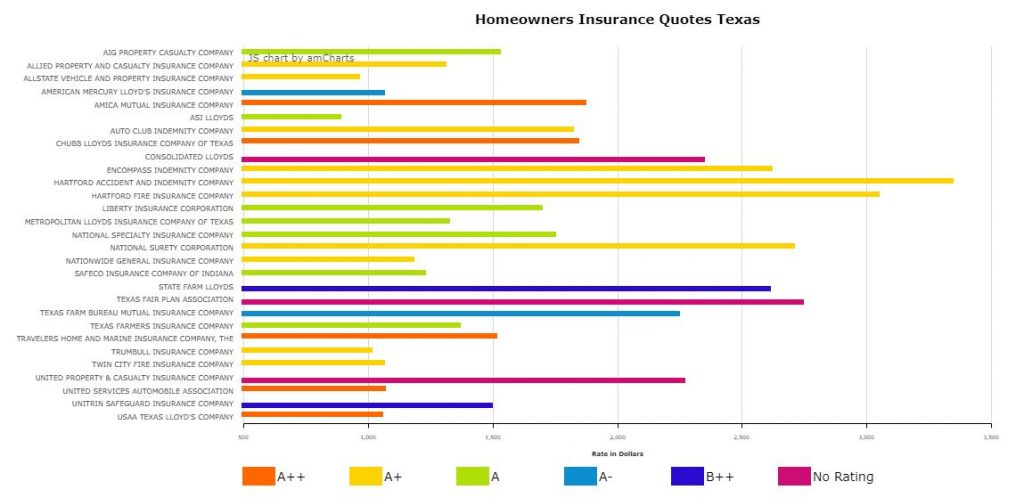 | | A | B | C |
| --- | --- | --- | --- |
| 1 | Company Name | Annual Sample Rate WITH wind coverage | A.M. Best Rating |
| 2 | AIG PROPERTY CASUALTY COMPANY | $1,522 | A |
| 3 | ALLIED PROPERTY AND CASUALTY INSURANCE COMPANY | $1,305 | A+ |
| 4 | ALLSTATE VEHICLE AND PROPERTY INSURANCE COMPANY | $958 | A+ |
| 5 | AMERICAN MERCURY LLOYD'S INSURANCE COMPANY | $1,059 | A- |
| 6 | AMICA MUTUAL INSURANCE COMPANY | $1,865 | A++ |
| 7 | ASI LLOYDS | $882 | A |
| 8 | AUTO CLUB INDEMNITY COMPANY | $1,815 | A+ |
| 9 | CHUBB LLOYDS INSURANCE COMPANY OF TEXAS | $1,839 | A++ |
| 10 | CONSOLIDATED LLOYDS | $2,341 | |
| 11 | ENCOMPASS INDEMNITY COMPANY | $2,614 | A+ |
| 12 | HARTFORD ACCIDENT AND INDEMNITY COMPANY | $3,339 | A+ |
| 13 | HARTFORD FIRE INSURANCE COMPANY | $3,044 | A+ |
| 14 | LIBERTY INSURANCE CORPORATION | $1,690 | A |
| 15 | METROPOLITAN LLOYDS INSURANCE COMPANY OF TEXAS | $1,318 | A |
| 16 | NATIONAL SPECIALTY INSURANCE COMPANY | $1,744 | A |
| 17 | NATIONAL SURETY CORPORATION | $2,704 | A+ |
| 18 | NATIONWIDE GENERAL INSURANCE COMPANY | $1,177 | A+ |
| 19 | SAFECO INSURANCE COMPANY OF INDIANA | $1,224 | A |
| 20 | STATE FARM LLOYDS | $2,605 | B++ |
| 21 | TEXAS FAIR PLAN ASSOCIATION | $2,739 | |
| 22 | TEXAS FARM BUREAU MUTUAL INSURANCE COMPANY | $2,241 | A- |
| 23 | TEXAS FARMERS INSURANCE COMPANY | $1,360 | A |
| 24 | TRAVELERS HOME AND MARINE INSURANCE COMPANY, THE | $1,509 | A++ |
| 25 | TRUMBULL INSURANCE COMPANY | $1,006 | A+ |
| 26 | TWIN CITY FIRE INSURANCE COMPANY | $1,057 | A+ |
| 27 | UNITED PROPERTY & CASUALTY INSURANCE COMPANY | $2,262 | |
| 28 | UNITED SERVICES AUTOMOBILE ASSOCIATION | $1,063 | A++ |
| 29 | UNITRIN SAFEGUARD INSURANCE COMPANY | $1,491 | A- |
| 30 | USAA TEXAS LLOYD'S COMPANY | $1,050 | A++ |
12 Ways to Find or Save with Cheap Homeowners Insurance in Texas
Deductibles and Premiums
Consider a deductible of $1,000 or more to save money. In addition, deductibles are paid upfront before insurance kicks in. However, higher deductibles translate to cheaper premiums.
Check Out Competing Insurance Companies
Being loyal to an insurance company year after year may give you a loyal customer discount. Still, you might be losing out on several other perks, including better customer service and cheaper rates. To find a reputable insurance carrier:
Speak with friends and co-workers about their careers and ask them if they would recommend their services.
Review recommendations at naic.org for insurers in Texas.
Use online customer reviews and consumer guides to learn about companies offering poor or excellent service.
Focus on stable carriers that have been in business for years.
Check potential carriers against the BBB for ratings and complaints.
Online Price Quotes
Take advantage of websites offering free online quotes for cheap homeowners insurance in Texas. Quotations can give you a general idea of the going rates and what you might expect to pay.
Discounts
Companies offering cheaper rates can reduce premiums. However, discounts can also add up quickly and substantially impact what you'll pay for coverage.
Remember, online quotes and websites may not list all available discounts. Therefore, you may need to make some calls to insurance carriers to learn about all available discounts.
Bundling Policies
If you have several policies like home, auto, boat, or RV insurance, consider bundling all your policies with one carrier to receive a discount. You might save anywhere from 5 to about 15 percent.
Shopping for a New Home
As you view new and old homes for purchase, keep cheap homeowners insurance in Texas in mind. This is the perfect opportunity to look at homes that could save hundreds in insurance if you apply these tips.
Avoid homes located in high crime areas, which generally cost more to insure.
Consider tiny starter homes to get started or down-size to a smaller homes with less square footage. Smaller homes always cost less to insure unless they have high-risk features like swimming pools, trampolines, or hot tubs.
Focusing on ten or fewer houses may save on insurance costs because electrical, plumbing, cooling, and heating systems are still in good shape and don't pose as much risk as systems in older homes.
It may be difficult to get cheap homeowners insurance in Texas if you purchase homes on the coast. They cost more to insure, and you may have to buy additional policies like flood or hurricane insurance.
Homes located near a fire station or fire hydrants usually result in a discount.
Homeowners Insurance Bills
Most insurers provide a small discount for auto payments or paying bills early before the due date. Visit up top for additional information.
Modernizing Older Homes
If you live in an older house and plan to stay in it for several years, you might consider upgrading the plumbing and electrical systems. However, older systems increase the risk of flooding or fires. Consequently, you're charged more for insurance. Replacing an old roof is another option that usually results in lower premiums.
Insuring a Home for the Wrong Amount
When setting up a new policy, it's easy to get confused and insure the home for too much money. New homeowners often make the mistake of insuring the house for the purchase price, including the land cost. Instead, homeowners should only insure their homes for the cost of rebuilding the structure.
Old Structures
It's not uncommon to purchase property, especially in a rural area, with old unstable structures. If you have no plans for these, you should consider removing them. Insurance companies view these as risks and charge you more for liability coverage, which increases your premium.
Limiting Claims
Evaluate the damage to a home carefully before choosing to file a claim. Filing claims increases your risks with insurers and usually increases premium costs.
Reviewing Home Inventory
Review your home inventory for personal property periodically to ensure you're not paying for insurance on items you no longer own.
You are comparing homeowner quotes, buying a smaller home, paying bills early, and limiting claims are just a few of the intelligent things you can do to get cheap homeowner insurance in Texas.